New to indoor gardening? Want to try your hand at an indoor gardening project? Love learning about indoor gardening and building your knowledge? Looking for a handy resource, a stunning gift or beautiful coffee table book but confused about the best indoor plant books?
We have scoured the book shops to put together our top 10 best indoor plant books. From basic indoor plant care to in-depth plant profiles, from indoor gardening projects to styling your indoor spaces, we have found 'the' best indoor plant books.
So, sit back knowing we have done the grunt work and the only hard decision for you is choosing which one, or two, or three of these to get your hards on.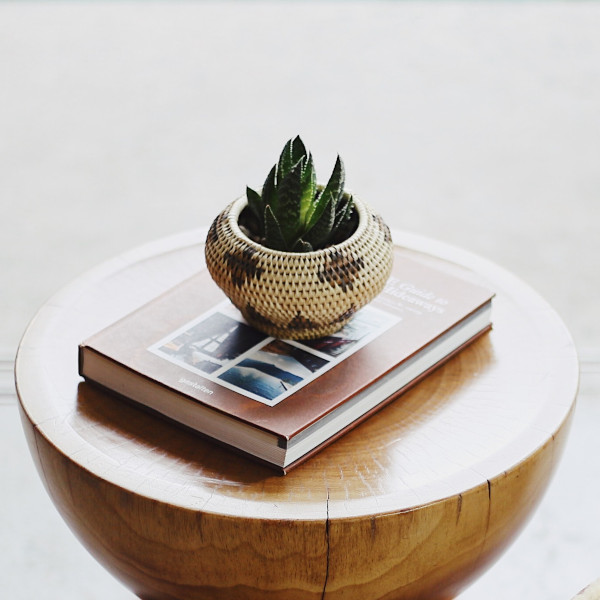 Our 10 best indoor plant books
1. Urban Botanics: An Indoor Plant Guide for Modern Gardener
In our first best indoor plant book, you can be sure you will find the right information amongst the 75 featured plants. All of the featured plants are easy to maintain so even beginners can become green thumbs.
Urban Botanics is a fantastic indoor gardening resource where you can learn how to care for all types of indoor plants including succulents, cacti and flowering plants.
It features stunning water colour paintings of featured plants making it a must for art and design lovers as well as an exceptional coffee table book.
2. Leaf Supply: A Guide to Keeping Happy House Plants
Leaf Supply is a comprehensive guide to indoor plants that is jam-packed with care tips for over 100 species of indoor plants – tropical plants, palms, succulents, cacti and some more unusual varieties as well.
It is a practical book on choosing and caring for indoor plants ensuring that your knowledge grows at the same time as your indoor plants. 
Leaf Supply also provides interior styling advice on selecting the right pots for your plants, how to best utilize your space, making the most of your indoor garden and pet-friendly plants for your home.
A fantastic reference for those interested in indoor plants, indoor gardens and some practical and aesthetic design advice.
3. The Leaf Supply Guide to Creating Your Indoor Jungle
A handy resource covering everything about houseplants – from varieties of houseplants to maintenance and care.
This book focusses on how to transform your house into an indoor jungle. Featuring jaw-dropping photography, styling notes, feature plants and information about their growing conditions, it is an excellent resource for those wanting to create a 'living room jungle'. 
Indoor Jungle earns its position in our top 10 best indoor plant books. It will similarly deserve its own prominent place on your coffee table and in your indoor gardening book collection.
We are all about creating a 'living room jungle' so this book truly earns its place in our top 10 best indoor plant books.
4. Houseplants: The Complete Guide to Choosing, Growing, and Caring for Indoor Plants
This book covers everything to do with houseplants – from different varieties of houseplants to maintenance and care.
Houseplants: The complete guide profiles more than 150 different plants and covers everything you need to know about choosing, growing and caring for indoor plants.
This is one of the most comprehensive of our best indoor plant books.
5. Living with Plants: A Guide to Indoor Gardening
This gorgeous guide to indoor gardening details everything you need to know about caring for and showing off your indoor plant collection – from choosing the right indoor plants to step by step indoor gardening projects.
These projects will help you create beautiful environments in your home or office.
This book also covers all of the basics from soil, watering, pruning and useful tips and tricks on how to maintain your indoor plants.
Living with Plants is definitely one of the best indoor plant books and a one stop shop for creating beautiful indoor garden spaces.
6. The Little Book of House Plants and Other Greenery
This book is a superb source of green inspiration focussing on small space indoor gardening.
It features 60 of the most popular indoor plants, with information on lighting, watering, propagation and potting needs.
The information on each featured indoor plant is accompanied by modern and beautiful photos of each plant making it one of our best indoor plant books.
7. The New Plant Parent: Develop Your Green Thumb and Care for Your House-Plant Family
This book focusses on the all of the basics of growing indoor plants. It covers finding the right light, and everyday care like watering and fertilizing.
The New Plant Parent offers advice and expertise to assist the reader in developing a comprehensive understanding of indoor plants and gardening. The advice is accompanied by step by step instructions for common activities such as repotting.
A popular and practical source of information for indoor gardeners.
8. How to Houseplant: A Beginner's Guide to Making and Keeping Plant Friends
An excellent resource covering everything from choosing an indoor plant to all of the basic indoor gardening activities such as grooming, repotting, and propagation. 
How to Houseplant is colorfully illustrated and profiles 50 of the most popular houseplants.
This book will help novices develop their knowledge and confidence through practical advice on everything from which plants are pet-friendly through to the top 5 plants for frequent travellers.
9. Indoor Edible Garden: Creative Ways to Grow Herbs, Fruits, and Vegetables in Your Home
If your desire is to grow edible indoor plants – herbs, fruits and vegetables – then this is the best indoor plant book for you. 
Indoor Edible Garden will help you create a stunning, and edible, indoor garden.
There are 28 innovative step by step projects for you to try such as growing garlic shoots and making a chilli and herb ball.
In addition, there are profiles of 30 of the top herbs, edible flowers, fruiting indoor plants and vegetables.
This handy guide also includes straight forward explanations of more complicated methods such as artificial lighting and hydroponics.
Illustrated with full color photographs and beautifully designed, this book will help you make the most of your indoor spaces.
10. Easy Peasy, Gardening for Kids
Especially for kids, this book is an excellent introduction to easy indoor gardening.
This book features step by step easy instructions and beautiful illustrations, for fun projects such as making your own pots, building balcony boxes, creating your own bird feeder and even getting friendly with worms!
Each indoor gardening activity has been carefully chosen to educate kids on creating living, renewable and sustainable environments.
So if you want the best indoor plant book for your kids, this is it.
Whether you are looking for a stunning coffee table book, a comprehensive guide, or practical beginner's guide to indoor plants and indoor gardening, there is a book for you.
Inspire your inner gardener and green thumb by picking up one of these fantastic reference books. Better yet, pick up as many as you like from our top 10 of the best indoor plant books.
Make sure you hang around and check out our other indoor gardening blog posts.
Remember, life is better with indoor plants!