For children, creating an indoor fairy garden can be so much more than just a fun activity. They love picking out the plants, gardening supplies, fairies and ornaments. But then, they get to use their motor skills and imagination in setting it all up.
They also learn a lot from an indoor fairy garden project. Children learn about different plants and how to help them grow. They also learn about being responsible and caring for something.
Once completed, children love having their own little garden where they are empowered to do the gardening activities such as trimming plants, watering, fertilizing and rearranging the ornaments.
The style of your indoor fairy garden is as limitless as you and your child's imagination and can include flowering plants, bonsai trees, succulents, herbs and even cacti. But if little fingers are going to be involved in creating and maintaining the indoor fairy garden, remember to check that none of the plants are toxic to children and animals.
There is a fantastic YouTube video How To Make A Fairy Garden by WhatsUpMoms. I have used this video to provide the step by step images of how to create your own mystical indoor fairy garden.
What is an indoor fairy garden?
An indoor fairy garden is a pot or container-based garden with small sized plants and ornaments made to look like a place fairies would love to live.
For children, the indoor fairy garden offers an enchanting place where their imaginations can run wild. They can create a fairy world with every feature they ever dreamed of, they can imagine the fairies in the garden and their fairy adventures. 
In addition, the indoor fairy garden can provide a calm area for reading (especially about fairies) and drawing. Try asking your child to imagine they live in the fairy garden and to tell you all about their fairy friends and adventures.
For adults, an indoor fairy garden can become an enchanting living centre piece or be a source of imagination and inspiration for our creative sides as well.
Once established, your indoor fairy garden can simply exist as a beautiful living centre piece, or you can continue to modify it as your imagination desires and as the plants grow.
What do I need to create an indoor fairy garden?
Children love participating by helping to pick out the pot, plants, gravel, fairy furniture and ornaments for this project.
Let's go through what you will need to create a stunning indoor fairy garden.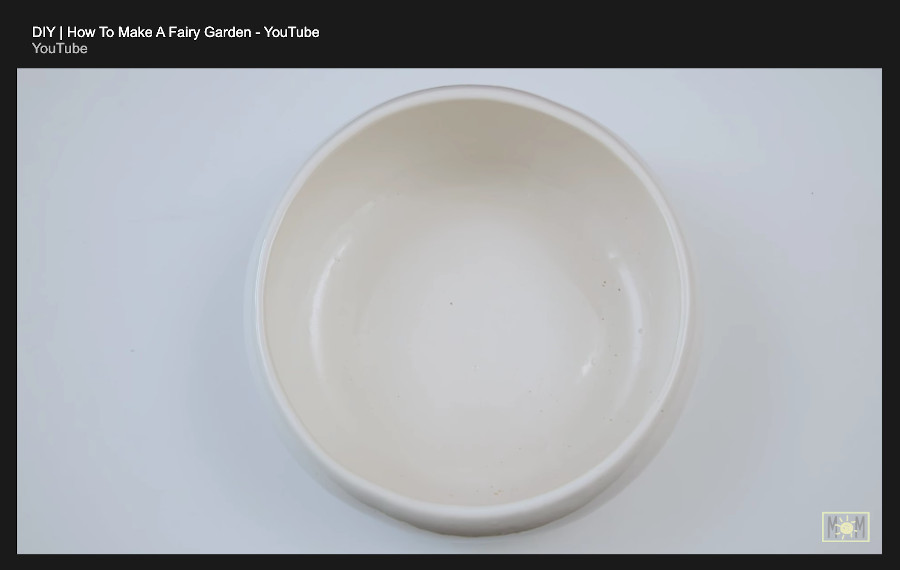 From simple and contemporary to imitation wooden logs, the choice is yours. The pot will set the tone and size of your indoor fairy garden. 
Choose a pot that provides a large enough space for the fairy world you intend to build. Generally a shallow and wide pot is best.
The pot must have drainage holes and a saucer for underneath the pot to collect that excess water. You don't want anything that will leak excess water onto your floor after you have watered your plants.
Here are some pots that are suited to creating an indoor fairy garden.
Use an all-purpose potting mix and not garden soil in your pot because it is formulated to ensure good drainage. Outdoor soils can contain bugs and bacteria that you don't want to welcome into your home. 
Any good quality indoor gardening potting mix is suitable, we recommend:
Having some indoor gardening tools can also be very helpful for creating and maintaining your indoor fairy garden. These tools are specifically designed for working in smaller spaces.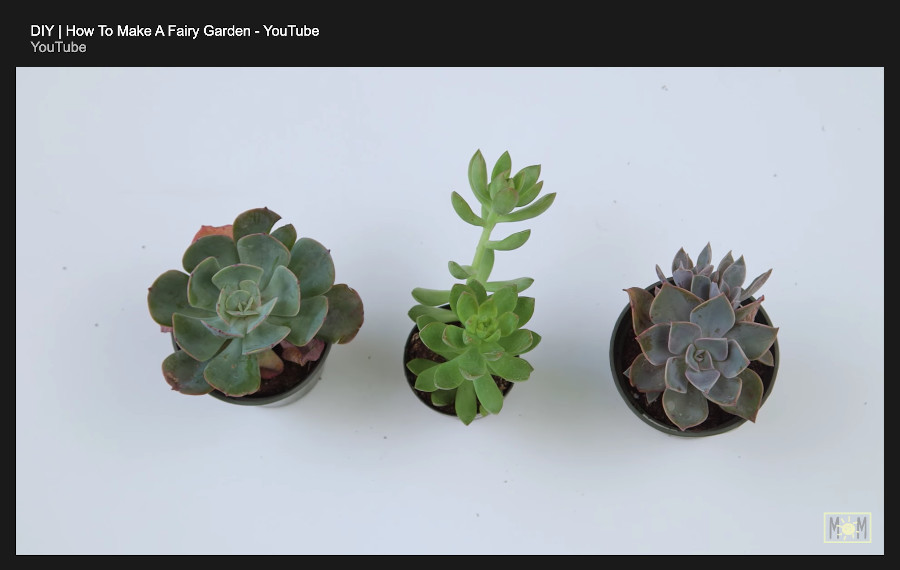 It is best to look at what is available in your local area.
Check the plant labels to make sure you are buying plants that are suited to the indoor environment. Many flowering plants will not thrive inside without plenty of light so it is best to look for plants with colored foliage to add color to your creation.
I like to purchase one tree shaped plant and a number of smaller plants that can be dotted around the pot.
Parlor palms, or any small indoor palm tree, are suitable. Succulents come in a range of colors and shapes, are easy to maintain and look great. You can also add a creeping or ivy type plant and allow it to hang over the edge of the pot.
Herbs are fantastic plants to include in your indoor fairy garden and perfume the air when touched. Mint and basil grow well indoors. Similarly, chives can look like grassy stalks and thyme will grow into an almost tree-like shape.
Plus, the herb sprigs from trimming your indoor fairy garden plants can be used in cooking!
Gravel, stones and coloured sands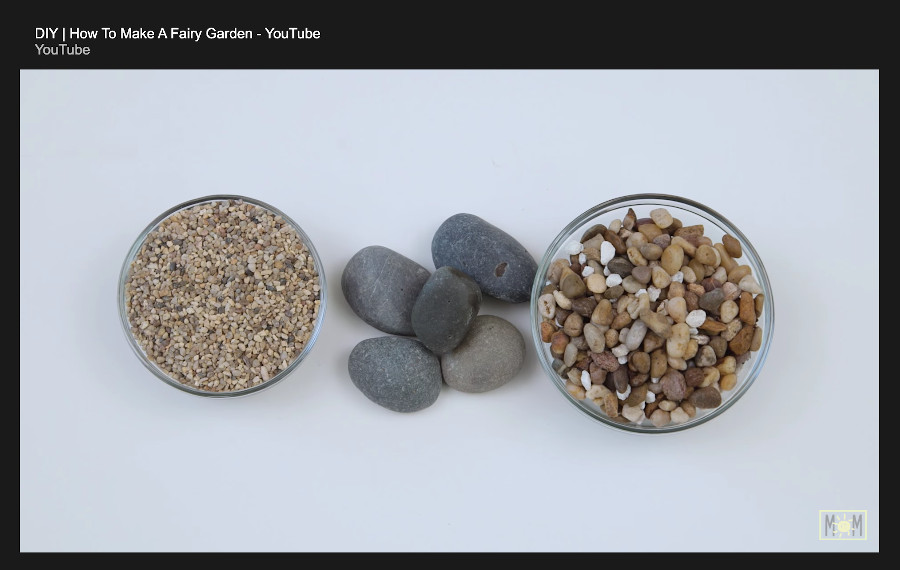 These will be used as ground cover and to create other features such as ponds or paths. I like to use small stones to cover the entire surface of the potting mix. You can then use larger stones, gems, or wood chips for stepping stones or paths and sprinkle colored sands to create other features.
Again, you can use all sorts of materials. Just remember to look in the craft aisle for inspiration. Here are some we recommend (many of which come in a startling array of colors once you click on the link):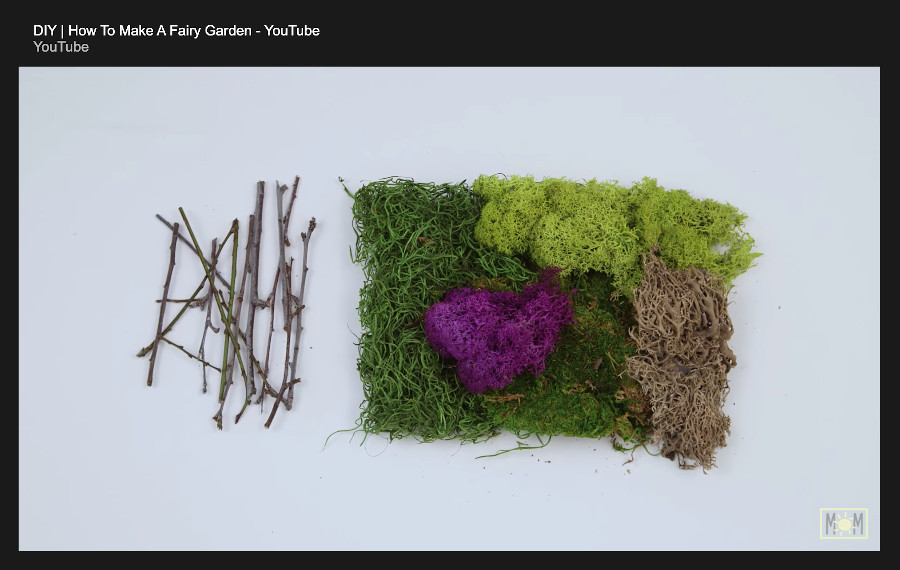 Moss is a really simple living ground cover and can also be used to create grassy mounds, bushes and shrubs. Be sure to use living moss over fake moss because the fake moss can grow mold in the damp environment of your indoor fairy garden.
Twigs can be used to create garden furniture, archways and other features. It is really up to your imagination!
It is best to buy these at your local garden centre with your plants.
There are some really colorful and imaginative fairy ornament collections available that include small animals, ladybugs, outdoor furniture, bridges, gates and much more. Part of the fun is choosing which collection to get and whether to include a dragon in your indoor fairy garden or not.
The fairy house is one of the most important features in your indoor fairy garden. Afterall, your fairies need a safe place to rest their heads after a hard day of fairy adventures.
If you are creative and handy, you can make one out of balsa or craft wood, and then paint it as well. If, like me, you are a little less handy on the tools, there are any number of commercially available fairy houses.
Weaving tiny fairy lights throughout your indoor fairy garden or simply around the base of the pot, can add even more magic to your creation. When illuminated at night, your indoor fairy garden will take on a whole new look and whimsical feel.
These fairy lights are waterproof (except the battery box) and come in a range of colours.
Indoor fairy garden kits
Alternatively, you can buy an indoor fairy garden kit that contains most of the features – just add pot, potting mix and plants! These kits make excellent gifts for children as well.
Step by Step: Creating your own indoor fairy garden
Fill your pot half full with soil
Plant largest plant first, towards the back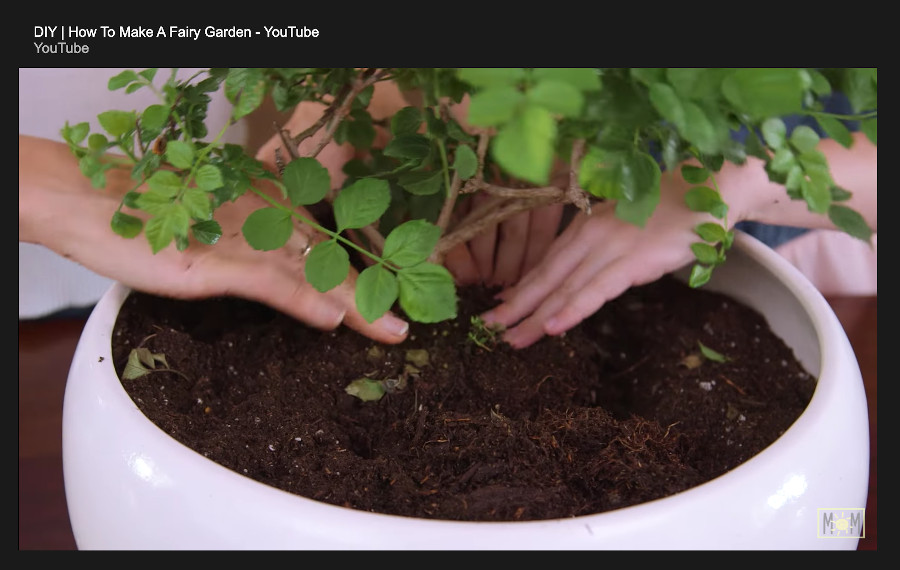 Position your fairy house and other large features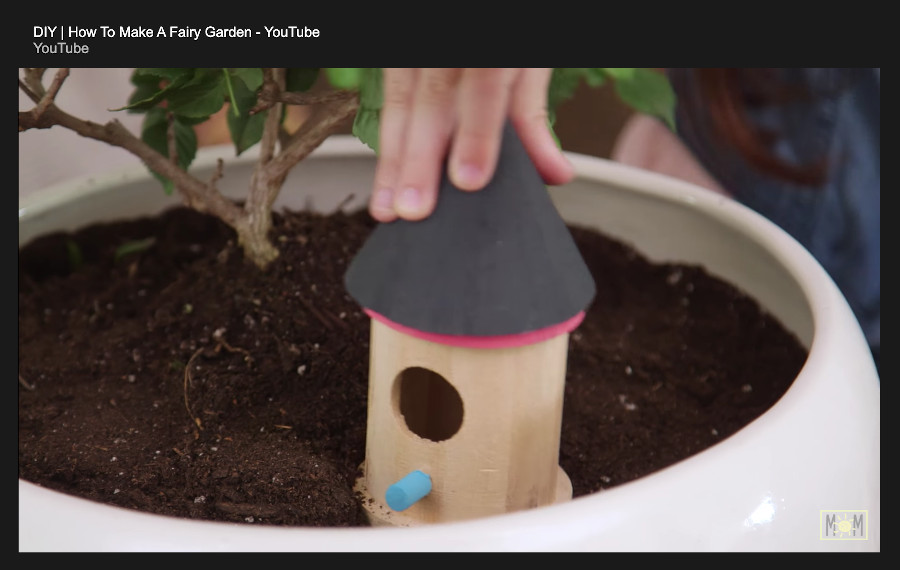 Position and plant other smaller plants around main features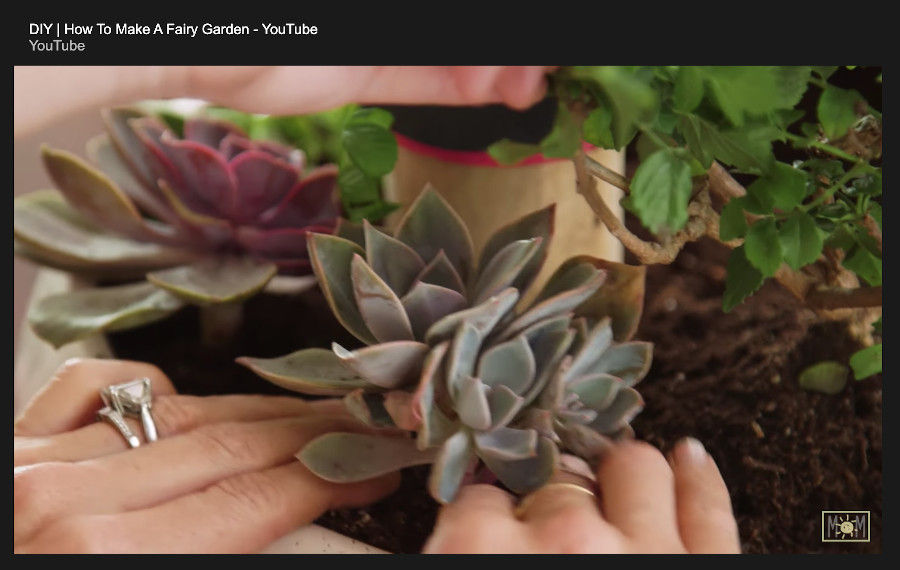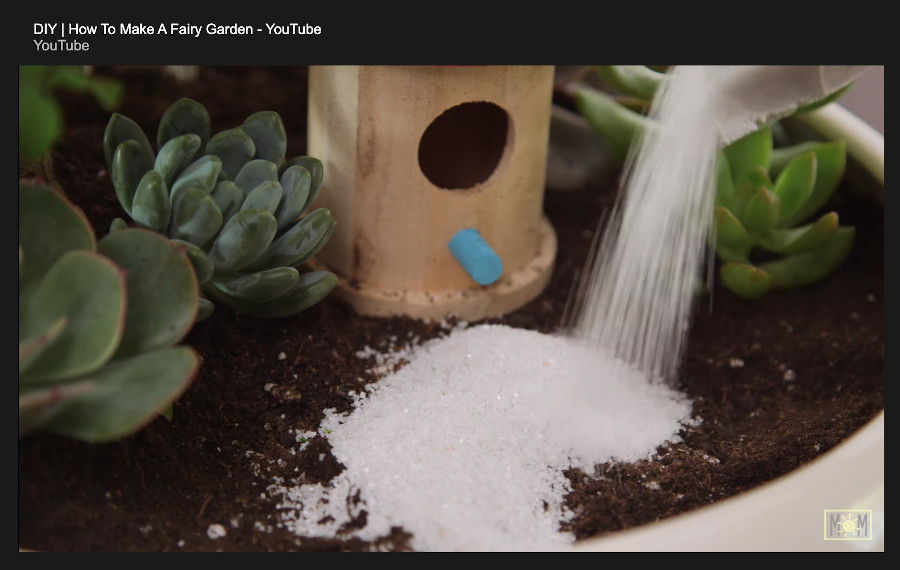 Use moss to create bushes and shrubs
Add some stones or gems for a fairy path
Use colored sand to create some features like a pond or river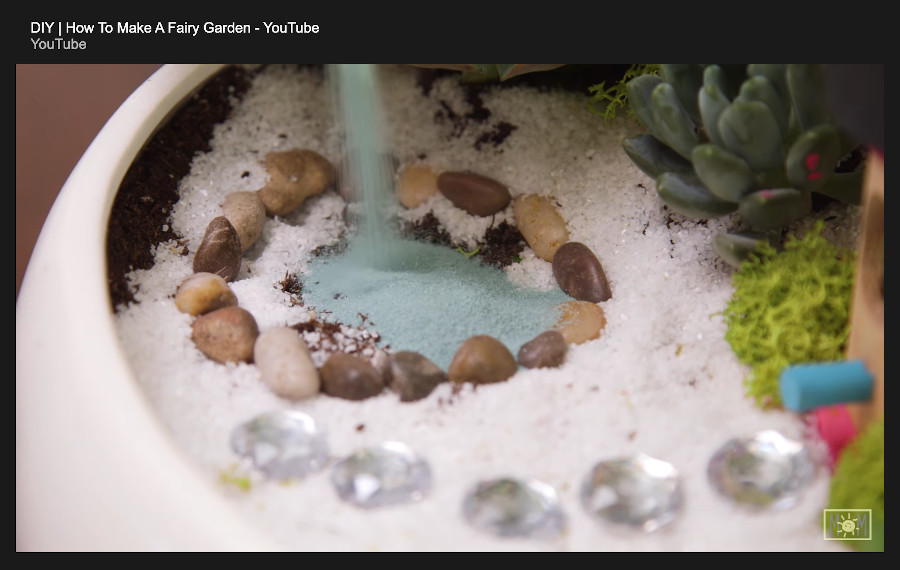 Place other features and ornaments. Build a swing or an archway from twigs and Lego pieces.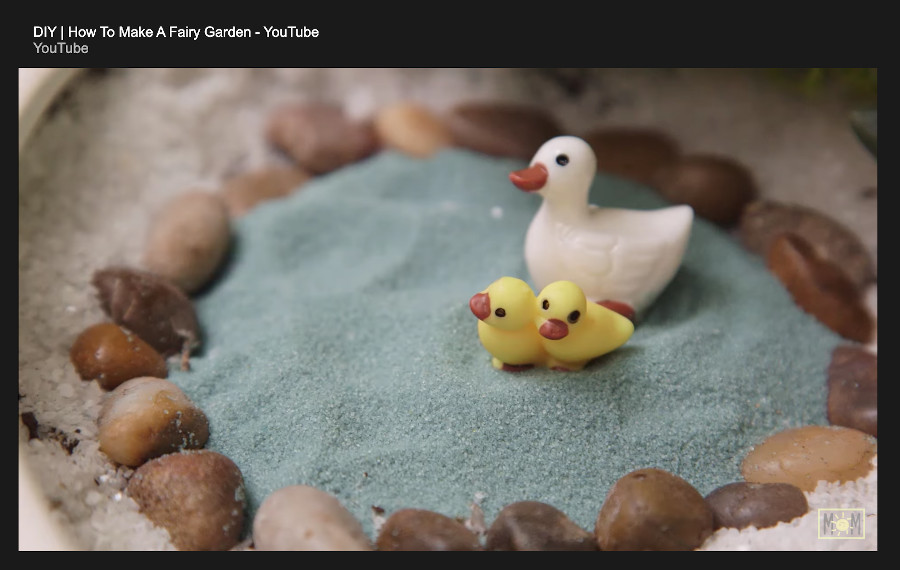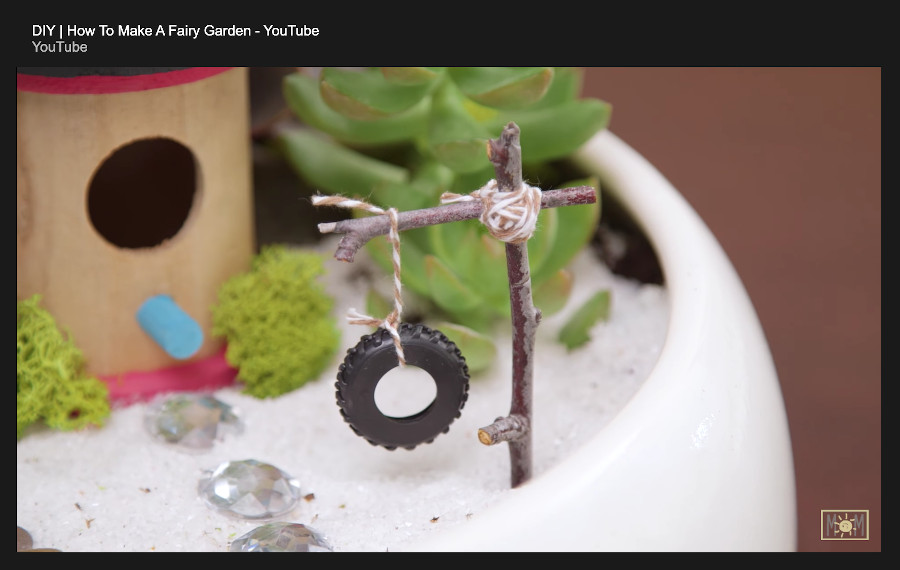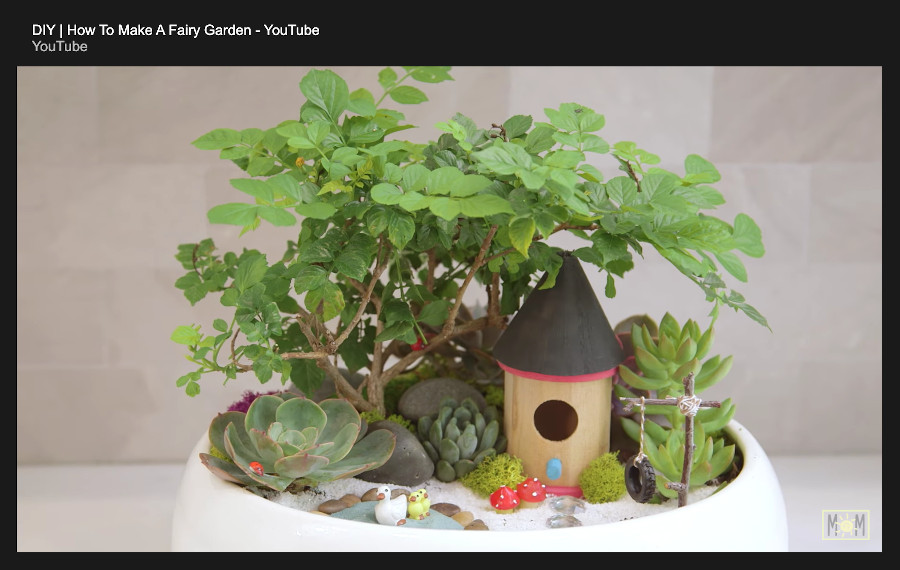 Finally, add some fairy lights for some extra depth and magic.

Watch the full YouTube video of How To Make A Fairy Garden by WhatsUpMoms. It shows all of these steps and just how easy creating your own mystical indoor fairy garden can be.
Creating an indoor fairy garden: the shopping list
Too many times I have arrived home to start my new project, having faced the crowds at my local shops, only to find I am missing key pieces. Then, there is the disappointed glare of my daughter to contend with.
So, here is the shopping list of everything you need to create an indoor fairy garden:
Pot, including saucer or tray
Potting mix

One tree shaped plant

Four or five smaller plants

Gravel, stones and coloured sands
Twigs and/or moss
Fairy ornaments – bugs, swings, animals, etc
Fairy house
Fairy lights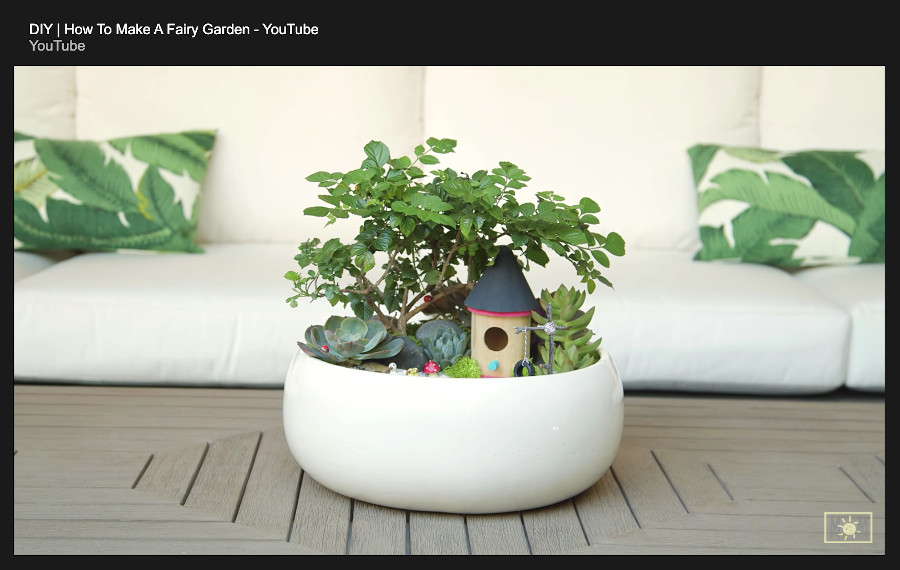 Creating an indoor fairy garden, for gardeners of any age, is a journey into the imagination and a fun experience. It is an excellent way to enjoy indoor gardening and to teach children about caring for plants.
Once completed, children love having their own little garden that they can maintain and continue to create. Or, if this was an adult project, you will love the centre piece you have created.
Whether your indoor fairy garden becomes an enchanted living centre piece or the centre of your children's imagination, you will love watching your creation grow, change and thrive.
Make sure you check out our other indoor gardening blog posts.
Remember, life is better with indoor plants!